Featured Products
---
Highest quality and care is put into our products. We want to share the best cocoa of the season with you.
Let us take you on a journey
We make chocolates that tell a story. We turn cocoa beans into fine single origin chocolates and wonderful blended dark and milk chocolates that are like no other. These high quality confections are hand made in small batches with specially sourced beans. Our goal is to highlight these complex flavors and aromas, to draw them out and let you explore the savory world of the cocoa bean. We want you to try the differences in cocoas from one bean to the next and strive to share the experience of tasting different beans from around the world to appreciate them for their uniqueness, much like fine wine and coffee. So come and check us out and see what Dark Arts is all about!
Single Origin Beans Now Spinning: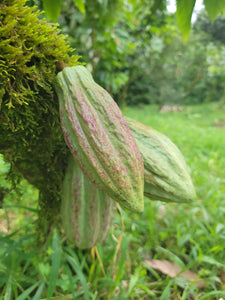 Finca Amistad Costa Rica
Tenorio National Park and its lush volcanic soils and plenty of rainforests that create some excellent cocoa crops. Here we find finca La Amistad Cocoa Lodge. This beautiful farm is...
Cambodian KamKav Cocoa
Kamkav cocoa farm is a relatively new venture from the Mondulkiri region in the northeast of Cambodia that is now bringing the world of chocolate an impressive Forestero cocoa while...
Blog
Introducing Cambodian Mondulriki Cocoa from KamKav Farms
Kamkav Farms produced an excellent harvest in 2019 and we were lucky enough to get some of the crop from Mondulriki. We went to great efforts to bring this bean to...
Exploring Cocoas From Around the World
The whole point of making your own chocolate is to explore the flavors of each type of cocoa bean from around the world.  Comparing the flavors that we taste from...